We recently caught up with Ben McCarthy, Co-Founder of Independent Software Vendor (ISV) Nymble, and Founder of one of the biggest Salesforce blogs in the ecosystem, SalesforceBen, to talk about all the things you need to know when starting a Salesforce consultancy.
Find out more about Ben's new book and template pack entitled "Secrets to Starting a Salesforce Consultancy" here.
Salesforce Republic (SR): How do Salesforce consultancies bring value to the Salesforce ecosystem?
Ben McCarthy (BM): Salesforce consultancies are involved with any new implementation of Salesforce and also any new features or products that an existing customer is implementing. Salesforce consultancies have two main areas of expertise: technical expertise and industry expertise.
Salesforce consultancies are regarded as the technical experts of the ecosystem. Usually the crème de la crème of Salesforce professionals, for example CTA's, will mainly work at consultancies.
Whilst an Administrator may be able to implement a simple feature such as live chat, deploying Service Cloud to 110 users is something you would need a consultancy for. Bigger implementations that require code, APEX or Lightning Development to customise the visual interface, will generally require a consultancy and their technical expertise.
Industry expertise refers to their experience deploying solutions in particular industries. Having industry expertise means you are aware of specific pain points and best practices when implementing Salesforce within that industry. This is really valuable.
At my consultancy, we were experts in hyper – growth, FinServ and FinTech companies, we had seen a lot of implementations before and as such were aware of best practices.
SR: When starting a Salesforce consultancy, what is one thing people might not consider a barrier until they start the process?
BM: Hiring is definitely something that people might not consider when beginning the process. The logical thing to do once you have won a few big projects and want to expand your consultancy is hire, but this can be quite challenging. It can take quite a lot of convincing to get an experienced Salesforce professional to leave their Platinum or Gold partner consultancy to work for you.
This is something you will have to use your network, as well as recruiters to overcome. Another thing that really helps with this is having a clearly defined USP. This may be giving back to the community, utilising a 1-1-1 model, or having a vision to grow your consultancy so large that now is the perfect opportunity for someone to get in on the ground floor. My last consultancy had a vision and a well defined USP, making it easier to get people involved with the company.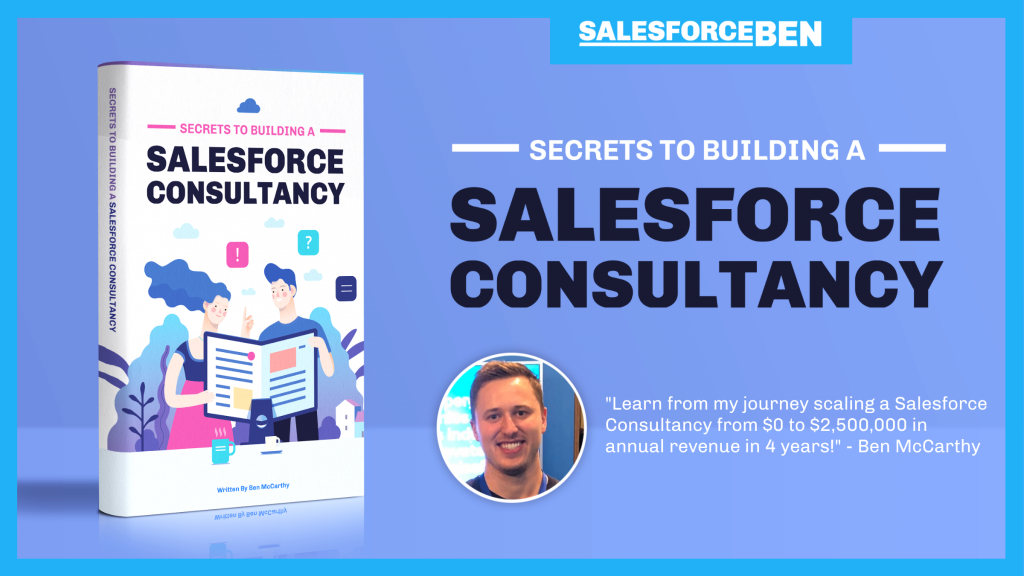 SR: In your opinion, what are the benefits of starting a new player in the Salesforce market?
BM: The main benefit is that Salesforce always needs new partners. When starting a consultancy you tend to work on the more simple projects, yet as you progress up that ladder of complex projects, the easier projects are still coming in. Salesforce is growing at such a rate that they constantly need that pipeline of new consultancies. To help with this, they even have an Alliances team, dedicated towards helping new partners into Salesforce.
The other big benefit is that Salesforce is a verticalized industry. They have verticalized all of their teams internally so that each team can focus on a specific industry. This means there are gaps for consultancies to come in and really define a market. With all these new areas like PropTech and InsurTech, there's a big opportunity for new consultancies to become the experts within these new industries. We focused on start-up and hyper growth, which I haven't really seen anyone else doing.
SR: Do you think the rapid increase in digital transformation, due to the pandemic, will affect people's expectations of a Salesforce consultancy?
BM: If there's one thing that this pandemic has taught us in terms of IT, it's that cloud systems are crucial to businesses in this environment. Whilst digital transformation is a challenge – moving away from legacy systems that can't be replaced – the expectation has now become that businesses can cope with this change.
In addition to a change in systems, when integrating with Salesforce, you will also have a lot of users who aren't used to the tool, or the power it provides. Consultancies delivering digital transformation need to be prepared to also deliver change management.
This is a great opportunity for consultancies that don't tend to work on digital transformations to really get stuck in. There are going to be a lot of companies implementing Salesforce and going through a digital transformation, as a result of COVID-19.
SR: What resources would you recommend to people looking to set up their own Salesforce consultancy?
BM: I've actually written a book called 'Secrets to Building Your Own Salesforce Consultancy'. It focuses on my time at EMPAUA and provides lots of helpful templates to get you started. Statement of work templates, presentation templates, workshop templates. Through this book I want to give anyone interested in starting their own consultancy a huge head-start in understanding the ecosystem.
There are also a lot of blogs online; we've got a few about becoming a Salesforce consultant. But a lot of the knowledge that you need is not public. That's why it's important to utilise your own network. Speaking to people from other consultancies about how they win and deliver projects is vital.
The Salesforce Partner community is also good to get involved with, and as I mentioned previously Salesforce also has an Alliances team dedicated to helping you grow.
SR: What advice would you give to Salesforce consultancies looking to stand out from the crowd?
BM: It is very important to conduct market research, see what other consultancies are out there and what they focus on, as this will help you to define a niche. Do you really want to go into an industry that already has a pool of consultancies? Focusing on a different industry is a great way to stand-out.
Branding is also important. I would advise people to try and be a bit different. There are a lot of successful consultancies that are less memorable because they all have similar names. A perfect example of a consultancy that stood out from the crowd was Tquila. Aside from the unique name, they had a bright orange logo that you couldn't miss. Differentiating yourself is a great way you can stand-out from other consultancies.
Delivering projects differently is also a way to catch people's attention, and get noticed by Salesforce. All consultancies do the same thing, there's not a lot of difference between them except industry. Doing something out of the ordinary will make you stand out from the crowd.
SR: Finally, how would you advise someone running a Salesforce consultancy, to make the most of their venture?
BM: You're going to be involved in so many aspects of the business; sales, pre-sales, operations, finance, HR. Especially if this is the first time you are setting up a business. Whilst this might seem like a challenge, it is also a great learning opportunity. Being exposed to so many different facets of the company will allow you to gain experiences that you can build on. Perhaps people aren't paying you, or one of your projects doesn't go well; learning from these experiences will help you grow not only as a consultancy but also personally. I've learned so much from being involved in all these aspects of a business, that when I found a company in the future, I'll be prepared.
Another thing to remember is that you should try and have fun with it. Building a business is really fun and it shouldn't be taken too seriously.